A Sense of Taste
THANK YOU!! 
We had a great time with you on Thursday, September 7, 2023
A Sense of Taste at Benham's Grove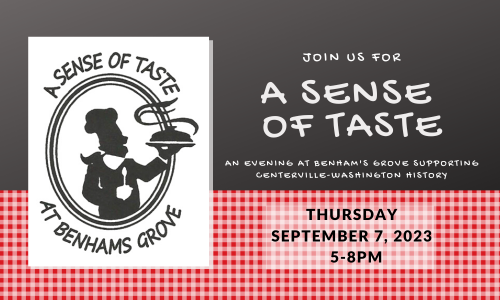 Delicious food provided by local restaurants, live music, and a cash bar.
Participating restaurants included:
Yankee Trace
Manna
CityBBQ
Agave & Rye
Greek Street
Old Bag of Nails
Esther Price Candies
Graeter's Ice Cream
Philly Pretzel Factory
Bill's Donuts
Courtyard of Centerville
Support Centerville-Washington History and have a fun evening with family and friends!
Tickets $35/person
THANK you to Burgundy Chic and Old Masters for joining us!

THANK YOU to our 2023 Event sponsors (as of 9/7/2023)
Platinum: 
Glass House Realty (Goris-May Group)

Gold: 
Metropolitan Dry Cleaners
SILVER: BEthany Village; Don Wright Realty; Heidelberg Distributing; Hochman, Plunkett, Attorneys at Law; Centerville-Washington Park District; Heart of Centerville & Washington Township; City of Centerville - Mayor & mrs Compton; 
Washington Township - sharon Lowry, Trustee; Keith Weiskittle for Washington Township Trustee; Ulliman Schutte construction; engert & Mclaughlin for centerville council
Bronze: Dot's Market Cross Pointe; Murr, Compton, Claypoole & Macbeth; Ross Rentals; routsong Funeral Home; Snyder Brick & Block; The UHL Agency; Westerly Rentals on Franklin St.; Sam's Club; Centerville Florist