Tours
There are multiple ways to tour our museums or to take a tour of historic Uptown Centerville!
Tour on your own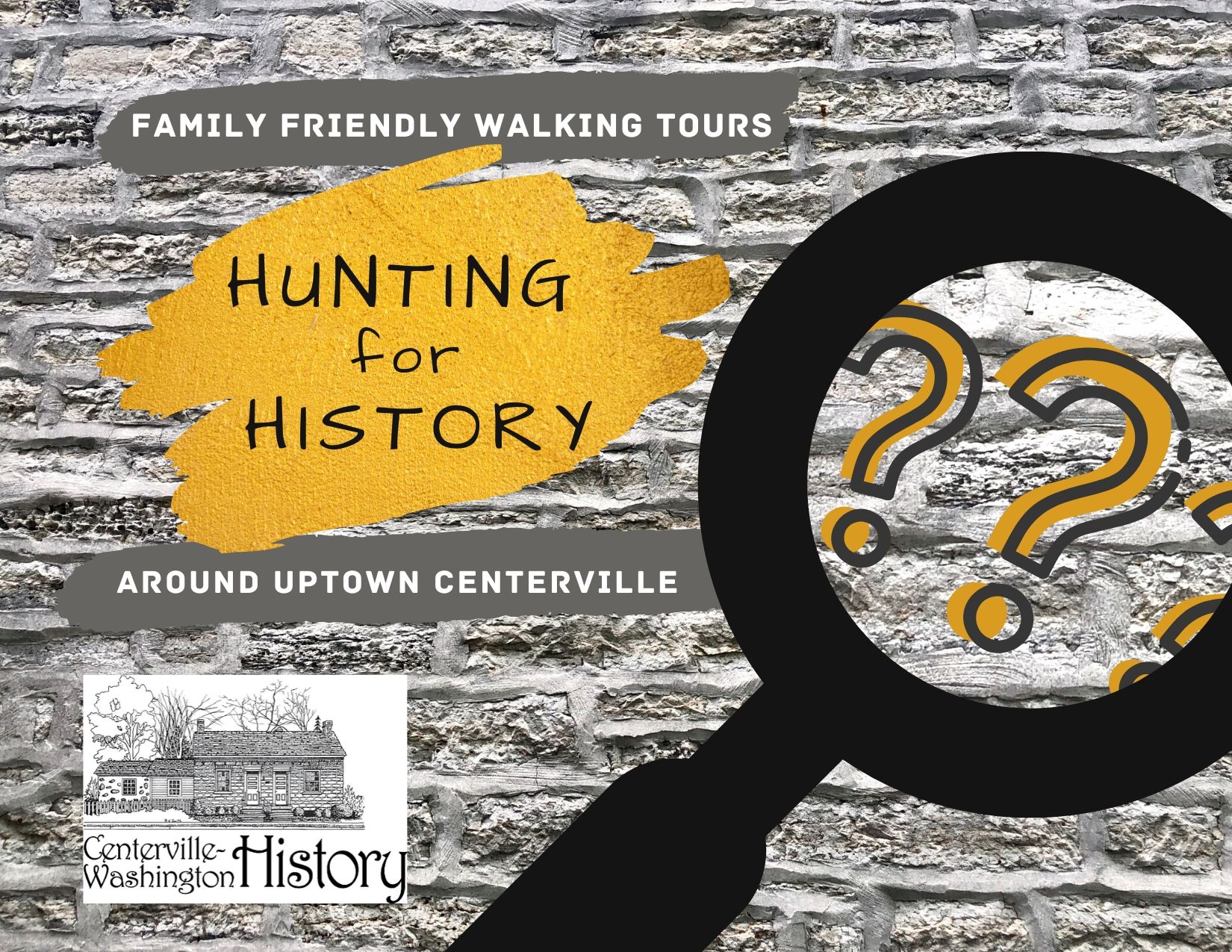 Hunting for History is a new way to explore Historic Uptown Centerville a little bit at a time. New tours will be added over the coming months. Tours can be downloaded below to be printed at home or you can take a screenshot. The most current tour will also be posted at the front and back doors of the Asahel Wright House Museum. 
Each family friendly tour includes fun "Young at Heart Challenges" to keep things interesting for the whole family.  ENJOY!
Hunting for History Tour #1 (starts and ends at Asahel Wright Museum)
  Hunting for History Tour #2 (starts at Marions Pizza and ends at Sew-a-Lot)
  Hunting for History Tour #3 (starts and ends on north side of West Franklin Street)

Walk Among the Tombstones of Sugarcreek Baptist Church Cemetery (the Old Centerville Cemetery)
Located around 300 N. Main St. (behind Chiapas Mexican Grill)
Visit 14 different gravesites on your own or walk along with the video guide. Learn about some of our area's earliest settlers. 
Download the Cemetery Tour Map
Download the Cemetery Tour Notes
View the video on our YouTube Channel
Take a historical walking tour of Uptown Centerville
(Bring a friend — tours accommodate 2-8 people)
Schedule an outdoor walking tour with one of our knowledgeable guides that 
suits your calendar
 or when you have friends or family visiting. Learn about Centerville's founding families as you visit one of the historic cemeteries, enjoy stops at some of Centerville's famous stone houses, and tour our historical museums as you take a step back in time. **Scheduling subject to staff and/or volunteer availablilty. 
If you are interested in booking a tour or have questions, please contact the Walton House 937.433.0123 or cwths@sbcglobal.net
Cost is $8/person ($5/CWH member)
Visit our Museums

Visit one of our 

museums

 and we will give you a brief tour and give you time to look through the exhibits on your own as well. Usual hours are Tuesday - Friday Noon - 4pm. Appointments are required for the Nutt Cottage Research Center. 


Walton House: 937.433.0123
Asahel Wright House: 937.291.2223
Nutt Cottage Research Center: 937.312.0040
School Tours - video versions now available: See a preview here 
Contact Education Coordinator, Melissa Wagner at MelissaCWH@sbcglobal.net for links to full educational video tours
Centerville-Washington History—connecting the community to its heritage by  collecting, preserving, interpreting and promoting the history of our local area.