Centerville Quarry
Centerville Quarry: A History
by Karen King
The largest quarry in the area was located north of East Franklin Street and west of Clyo Road on the John E. Allen farm. Quarrying expanded at this site when Mr. Allen ran into financial trouble in the early 1880s. John was born on this farm close to the eventual quarry in 1828 and purchased the house and land from his parents, Lawson and Frances Allen, in 1856. Rail lines were laid out and land was leased to an industrialist and the limestone business grew over the coming decades. The peak of operations was likely in 1927 and 1928 when 320 men were employed at the site and a host of heavy equipment, powered by steam, optimized limestone production.  Local stone was used for buildings, roadworks, and agricultural lime.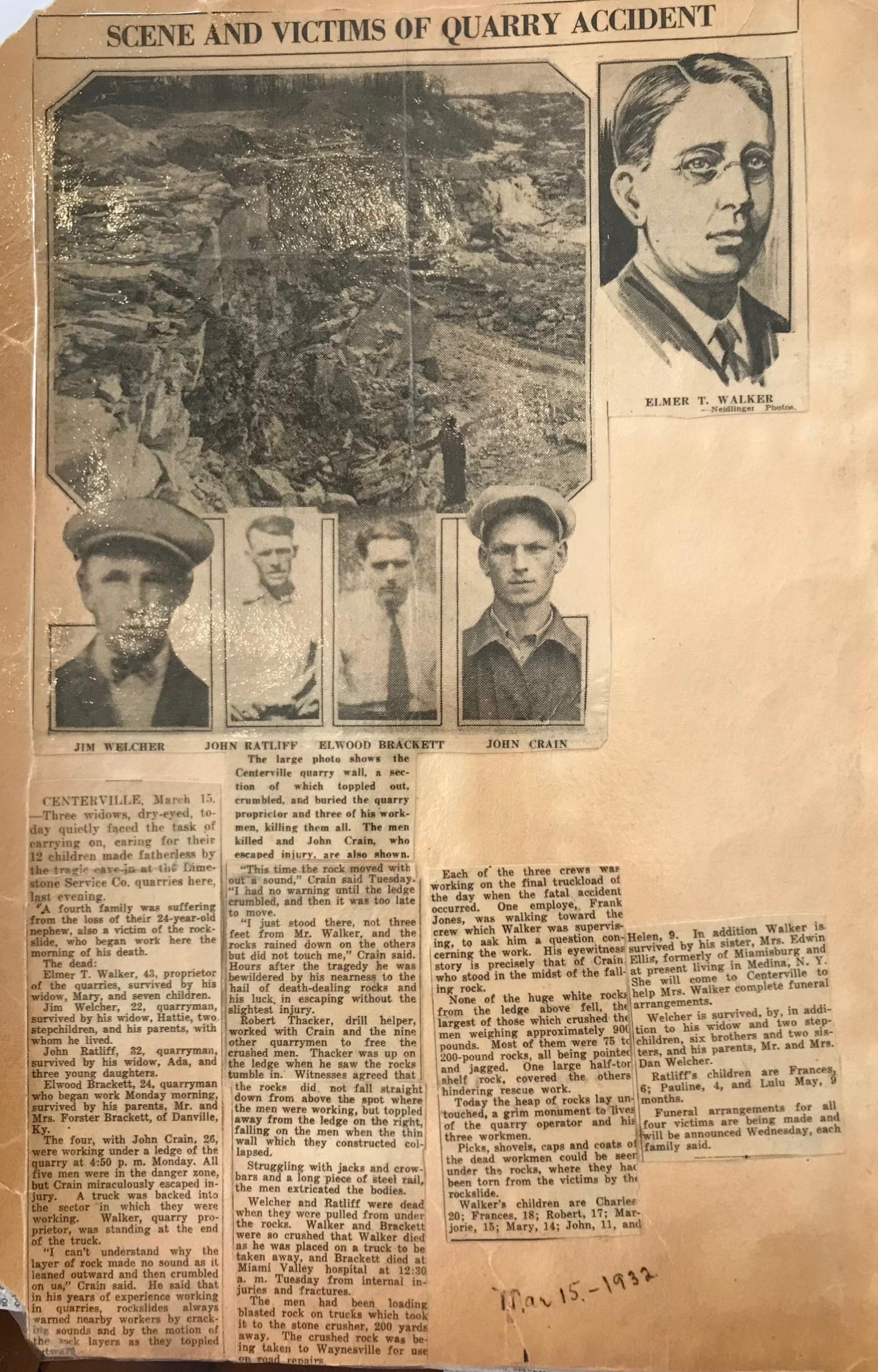 Elmer T. Walker moved his family to Centerville in July 1922 as the new manager of the Centerville Stone Quarry. One of his seven children, daughter Margaret Walker Ary, recounted memories from her childhood living near the quarry in A Sense of Community. She remembered the equipment from the quarry and how her father taught her to swim in an exhausted area that was dammed up as a swimming hole. She told of the workers, many immigrants from Italy or Hungary, that lived in company housing and the clothing of their wives – long black skirts and babushkas on their heads. The company store was closed just prior to her family arriving and so all the shopping was done in local Centerville shops.
Late in the afternoon of March 14, 1932, four workers and their superintendent, Mr. Walker, were finishing up in one of the danger zones. Without the usual warning sounds of impending rock movement, the ledge above the men collapsed. Two of the men, Jim Welcher (age 22) and John Ratliff (age 32) were killed instantly. Mr. Walker, age 43, died on the way to the hospital after being extracted from the rubble by 11 quarrymen, and Elwood Brackett (age 24) died early the following morning at Miami Valley Hospital. It had been Elwood's first day on the job. Miraculously, John Crain survived unscathed to aid in the rescue efforts and give his first-hand account of the accident. Three women lost their husbands that day and 12 children lost their fathers.
After the tragic accident, work at the quarry came to a standstill. The Great Depression left little demand for gravel and the business failed. However, one worker and a witness to
the accident, Sam Frye, continued working in the quarry by hand with heavy hammers on stone that was already detached. Sam Frye, a Black American, was a well-respected quarryman who spent his life among the rocks and the heavy equipment used in extracting and moving stone. He began working in quarries as a child in 1898 carrying water to the workers. Before coming to Centerville, he worked in various quarries in Columbus. He was known to have a keen understanding of geology despite a lack of formal education.
A reporter from the Dayton Daily News learned of Mr. Frye's continued work and published a story about him on August 10, 1940. In the article Sam stated, "It's hard work and I can't keep men here to help me. It's too hard a work for them, so I go it myself." There had been one large order from St. Peter-in-Chains Catholic Church in Cincinnati for a building addition that Sam filled only after fixing some of the machinery and hiring on a crew of men. Otherwise, he worked alone.
As the years wore on, sections of the quarry filled with water. First a small swimming hole and finally a large lake formed. Known as "Quarry Lake," the area was owned by the Village of Centerville from the late 1930s through the 1950s. It was used as a part of the community's water works. Today the lake and part of the original Allen farmland, are privately owned and enjoyed by members of the Centerville Rod and Reel Club.
Article compiled from information published in:      A Sense of Community (1996) Centerville Historical Society; A Sense of Place (2013) Centerville-Washington Township Historical Society; A History of Blacks in Centerville & Washington Township (1997) by Janet Thobaben; and two Dayton Daily News articles dated March 15, 1932 and August 10, 1940.