Podcast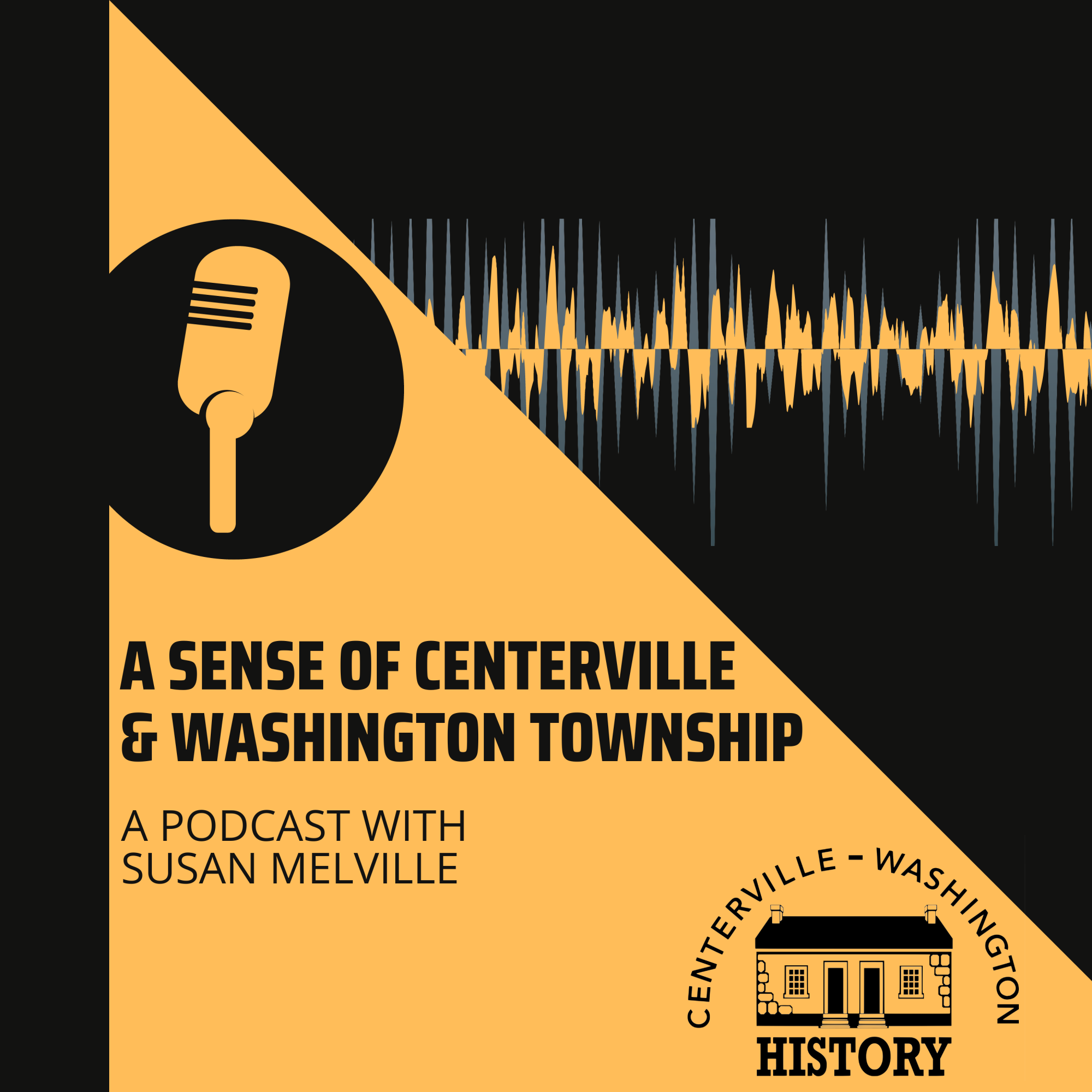 A Sense of Centerville & Washington Township
Bringing you the stories of ordinary and extraordinary residents and places in the Centerville and Washington Township area. Hosted by Susan Melville from the staff of Centerville-Washington History.
Click the links to listen!  Find us on Spotify, Amazon Music, Apple Podcasts, or your favorite podcast site to subscribe. 
You can also watch these episodes curtesy of Miami Valley Communications Council.
OR you can watch the episodes on our YouTube Channel.
Season 2, Episode 9: Guest Joellen Ulliman
Joellen Ulliman has been the Curator for Centerville-Washington History for over 6 years. Prior to that, she was a language arts teacher for 23 years in Waynesville. Joellen has lived in Centerville for over 25 years. She loves spending time with her husband, two grown children, and three grandchildren. In her free time, Joellen loves to hike, read and stay fit. (Recorded August 2023)
Season 2, Episode 8: Guest Kristen Marks
Kristen Marks is the Executive Director for the Centerville-Washington Park District. She has been with the Park District since 2002 when she began as the Park's naturalist. In addition, she is the former president of the Ohio Park and Recreation Association and a member of the Centerville Noon Optimist Club. Founded in 1959 as the Washington Township Park District, the Centerville-Washington Park District currently operates 8 community parks, 9 nature parks, and 34 neighborhood parks. In addition to maintaining the parks, CWPD also offers outdoor recreational programming for the community. Their primary focus is to connect residents with the outdoors and the natural environment. (Recorded June 2023)
Season 2, Episode 7: Guest Wayne Markworth
Wayne Markworth was Director of Bands at Centerville High School for 35 years. He developed the marching band, known nationally as "The Centerville Jazz Band", into a unique and entertaining ensemble that performed an all-jazz format on the field. In 1992 they were the Grand National Champions. Wayne is an active clinician, adjudicator, arranger, trumpet performer, and president of the music & consulting business, Shadow Lake Music. He also currently serves as adjunct faculty at Wright State University. (Recorded June 2023)
Season 2, Episode 6: Guest Vickie Bondi
Vickie was Executive Director of Centerville-Washington History for over 14 years. She began as a volunteer and joined the staff as a museum assistant and later became Walton House Site Manager and administrative coordinator. To help promote local history, Vickie built collaborations within the community.  In 2016 Vickie guided a rebranding of the organization by changing the name from Centerville Washington Township Historical Society to Centerville-Washington History. She retired in 2019, after 24 years with the organization, to spend more time with her grandchildren. (Recorded May 2023)
Season 2, Episode 5: Guest Rajeev and Surender Goel
Rajeev Goel is a local Technology entrepreneur who co-founded AccuFit Solutions, Inc. Through his business he helps to provide software applications and tools to help metal manufacturers manage their raw material more effectively. He has been involved in the community through Science Olympiad and more recently, The Centerville Education Foundation.  Rajeev is a Centerville High School graduate and son of Surender Goel, originally from New Delhi, India. Surender moved to the United States to attend graduate school at UC Berkley in Industrial Engineering.  He moved to the Dayton area in 1969 and to Centerville in 1979. (Recorded April 2023)
Season 2, Episode 4: Guest David Meyer, PhD
Dr David Meyer was raised in a large family on a farm in Northern Ohio. A Vietnam War-Era Air Force veteran, he is an accomplished public servant who has greatly impacted the Dayton area as a Professional Engineer. Dave, along with his wife Kathleen, became a member of Centerville-Washington History in 2015, and he joined the Board of Trustees in 2017. He has taught at The Ohio State University, The University of Dayton, and is a Professor Emeritus of Sinclair Community College. In 2020 Dave was honored as an inductee into the Ohio Veterans Hall of Fame. (Recorded March 2023)
Season 2, Episode 3: Guest Brian Forschner
Brian was the co-founder and first executive director of St. Leonard Center and subsequently President of Mercy Senior Health and Housing Services. He is a fourth generation Daytonian and married to wife, Joyce for 50 years. Brian has a PhD from OSU and is an author, photographer and runner. Listen as Brian shares the history of St Leonard's. (Recorded February 2023)
Season 2, Episode 2: Guest Terry Obrien
Terry Obrien grew up in Centerville, Ohio. He is a local entrepreneur who owns Trilevel Records and Video. Terry helps local Dayton artists write and produce music. Through collaborations with the City of Centerville and Centerville-Washington History, he has produced award-winning projects. He helps to promote local history through his Facebook page, Centerville, Ohio Nostalgia. His recent interviews with past Centerville High school graduates also took a look at school experiences through many decades. He serves on the board of Centerville-Washington History. (Recorded January 2023)
Season 2, Episode 1: Guest Sam McLain
Sam, a senior at Centerville High School is the current Student Council President. He is a three-time state qualifier in debate, attending Northwestern University in the fall majoring in political science. In addition, Sam is president of the STAGE club, the theatre club for CHS as well as a regular on the stage. He sings for FORTE, Centerville's premier Accapella group. As an Elk connector, he helps with freshman orientation and CHS acclimation. Through the student to student suicide prevention network, Hope Squad, Sam contributes to the supportive environment at CHS. He is a commended National Merit Scholar and was selected by the student body as Homecoming King in the fall.  (Recorded January 2023)
---
Season 1, Episode 10: Guest Lisa Elam Tucker
Lisa Elam Tucker, co-owner of Bill's Donuts along with her brother, shares about the history and current operations of this iconic Centerville business. Her parents, Bill and Faye Elam founded Bill's Donut Shop in 1960 in downtown Dayton. By the 1970s there were several locations throughout the Dayton area with stores in Vandalia, Wilmington, Kettering, and Huber Heights. The location in Centerville was originally closer to the intersection of Franklin and Main but the parking was limited, necessitating a move to the current location at Bradstreet and Far Hills. Initially, the shop wasn't open 24 hours a day but as more Centerville residents were working the third shift at NCR the store evolved to meet the increasing demand. In 1995 Bill and Faye sold the business to their children, Lisa and Jim. (Recorded November 2022)
Season 1, Episode 9: Guest Richard Diaz
Richard Diaz works as a Community Coordinator at Miami Valley Communications Council (MVCC). Founded in 1975, MVCC is a municipal communications and technology organization representing eight communities in the area including Centerville. Richard shares about the involvement of Centerville-Washington History with MVCC over the years and the shared mission of preserving history. He describes the many resources that MVCC has to offer to the community. He also relates how he found himself involved with community access TV and why he made Centerville his home.  (Recorded November 2022)
Season 1, Episode 8: Guest Bill Gaul
Bill Gaul, retired Washinton Township Fire Department Chief, shares about his life in the local area having moved here when he was a student at Tower Heights Middle school. He graduated from Centerville High School during a time of growth and change. Bill joined the Washington Township Fire department as a volunteer firefighter in May 1979. After nearly 40 years of service to the department, including 11 years as chief, Bill retired in 2018. Retirement is still busy for Bill, who is on the board at Centerville-Washington History and helps to care for his grandchildren. (Recorded October 2022)
Season 1, Episode 7: Guest Laura Zipes
Laura Zipes is Centerville-Washington History's 2022 scholarship winner. This extraordinary young lady has demonstrated athletic talents and leadership abilities as a very active member of her school community. Laura is also very active in the community working at Dunsinane Swim Club, volunteering at SICSA and tutoring other students. Laura plans to major in Secondary Education at Miami University in the fall. Enjoy this promising young adult perspective on our community as she shares about her high school years paralleled with a pandemic. (Recorded August 2022)
Season 1, Episode 6: Guest Janet Watkins Black
Janet Watkins Black, a 6th-generation Washington Township resident, shares about growing up with her parents and grandparents on a 180-acre farm near Sheehan and Nutt Road. Janet taught 3rd grade for the Centerville School district and then worked at St Leonard Senior Living Community as an activity coordinator. She has been active in the community through Centerville-Washington History, Centerville Women's Civic Club, and Normandy United Methodist Church. (Recorded August 2022)
Season 1, Episode 5: Guest Charlotte Melville
Seventeen-year-old Charlotte shares her experience living through the pandemic, growing up in Centerville, and her memories of Centerville-Washington History's Summer Youth Programs. This episode also discusses the Centerville High School Band and favorite places and programs in the Centerville and Washington Township area. (Recorded June 2022)
Season 1, Episode 4: Guest Martha Boice
Martha tells Susan about her interest in the early stone buildings of Centerville and the process of discovering the stories that we read about in the book, "A Sense of Place." She talks about learning how to do research and how her curiosity helped her to do hard things.  Her passion for the buildings helped to preserve them for future generations to enjoy and learn about history! (Recorded May 2022)
Season 1, Episode 3: Guests Roy and Sue Turton
Susan talks with Roy and Sue Turton, Washington Township natives, classmates, and soulmates. The Turtons graduated from Centerville High School in 1953 and raised their family on a little plot of land near Rooks Road. They have had three generations of Centerville High School graduates in their family. In this episode, Roy and Sue Turton share stories about people and places that have shaped this area. (Recorded April 2022)
Season 1, Episode 2: Guest Robert Thobaben
Susan inverviews Robert Thobaben, a long-time Centerville resident, who recalls the start of World War II and describes his role in the 111th Infantry in the Pacific Theater. He talks about his career as a professor at Wright State University and his opportunity to travel throughout the world. Staying active and engaged throughout his 98 years of life, Robert shares some of the wisdom he has learned over the years. (Recorded March 2022)
Season 1, Episode 1: Guest Jerry Strange
Susan talks to Jerry Strange, Trustee of Centerville-Washington History about his move to Centerville in the early 1960s and what life was like during that time. Jerry was a professor at the University of Dayton for 40 years.  In this interview, he reminisces about his time with Centerville Diversity Council, Normandy Church, and Centerville-Washington History. Jerry reflects upon living in a pluralistic society and the benefits of diversity in the Centerville and Washington Township area. (Recorded March 2022)