Speaker Series
The 2023/ 2024 Speaker Series is Scheduled!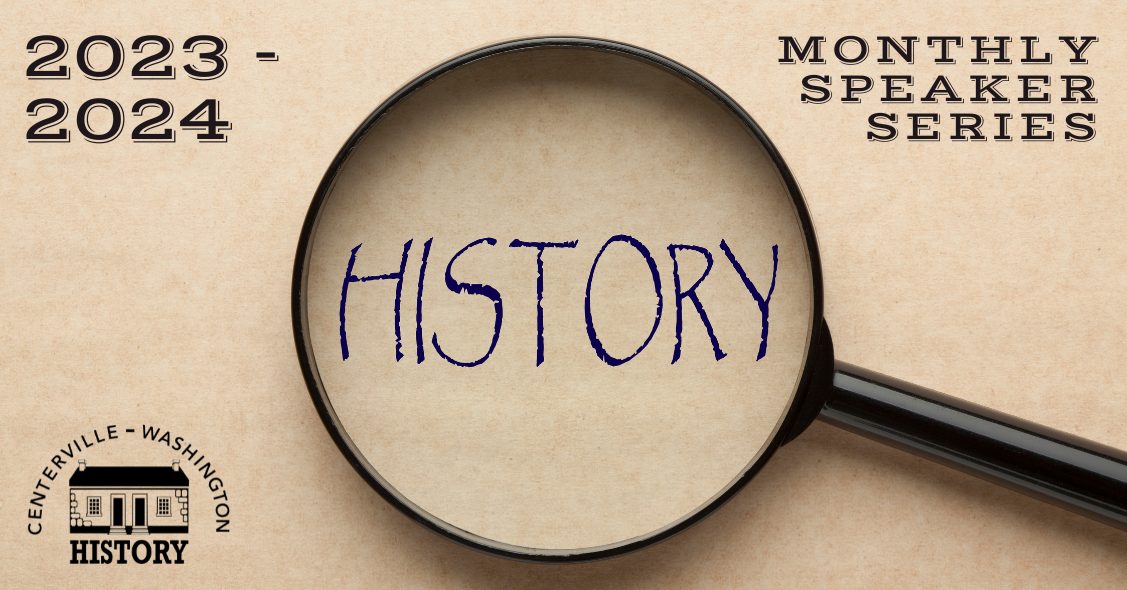 Monthly Speaker Series 2023 - 2024 
Third Tuesday (usually) of the month   **   Free & open to the public!
RecPlex West Theater (Rec West)
965 Miamisburg Centerville  Rd.
Reception 6:30 p.m.        Program 7:00 p.m.
Enjoy refreshments and historical education. 
Donations welcome and appreciated.
**NOTE -- Please enter on the south side of the building using the east doors that are closest to the theater. Park between the Subaru dealership and the building for shortest walk.
September 19, 2023 
Tim Riordan

Cincinnati's Chattanooga Choo Choo Railroad
The Cincinnati Southern Railway is the largest municipally owned railway in the U.S. After the Civil War, the City of Cincinnati built a railroad to Chattanooga to open Southern markets to Cincinnati manufacturers and merchants. Speaker Tim Riordan, a former Cincinnati Deputy City Manager who served 10 years on the Board of Directors of the Cincinnati Southern Railway, will provide a history of that railroad that was financed, built, and is still owned by the City of Cincinnati after 150 years. This is the railway that inspired the famous song: 'Chattanooga Choo-Choo'.

October 17, 2023
Andy Hite
A Canal for the West: The Miami & Erie Canal
The canals of Ohio were created to provide access to more lucrative markets for Ohio farmers and industries. While raw materials flowed out, boats returned with consumer products from all over the world at prices many Ohioans could now afford. The face of retail in Ohio changed forever once the canals came here. The completion of the canals also brought the first big growth spurt to Ohio, especially if a town was fortunate to have the canal pass through.
Andy Hite, the Site Manager of Johnston Farm & Indian Agency for the Ohio History Connection, serves as a Trustee and Vice President of the Canal Society of Ohio. He has been a member of the American Canal Society, and served on its Canal Boat Committee.

November 14, 2023
Bill Albers
Christmas Truce on the Western Front - WWI
January 16, 2024
Paul Cooper
Frontier Between the Miamis: Pioneers in Ohio 1783-1800
February 20, 2024
Ed Ross
Ida Weller - A Woman Ahead of Her Time
March 19, 2024
Ed Roach - National Park Service
Post-1908 Trip into the Wright Brothers' "Clunky" Business Affairs
April 16, 2024
Rosemary Thunder Schwoebel
A Vietnam Memoir - Adventures of an American Red Cross 'Donut Dolly' 1968-1969
May 21, 2024
Billy Ring, Miamisburg Fire Dept. Capt. (Ret.)
July 1986 - Miamisburg Railroad Chemical Tank Car Fire
 2023/24 schedule (pdf)
February 21, 2023
Tanya Maus: 19th Century Quakers in Southwest Ohio (click for YouTube video of presentation)
Select sessions from 2022 are available on YouTube:
FDR's Confidential Crusader by Mike Williams - Watch the presentation on YouTube
Hidden History of Dayton by Tony Kroeger - Watch the presentation on YouTube
The War in Ukraine and the Future of Geopolitics by General John R. Allen - Watch the presentation on YouTube
 Enjoy videos of our 2020/2021 speakers on YouTube