Speaker Series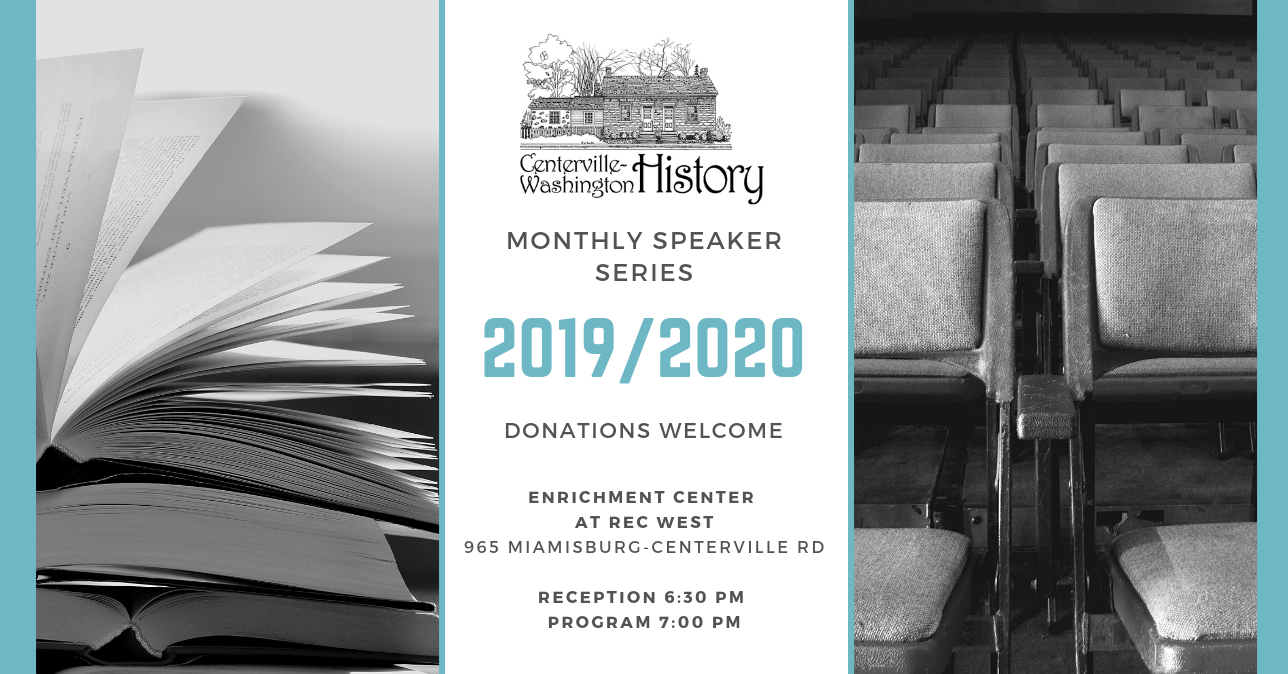 Centerville-Washington History
Speaker Series 2019-2020
Open to the public!  Enjoy refreshments and some historical education.
Donations welcome and appreciated. Reservations are not required.
Enrichment Center at Rec West

965 Miamisburg-Centerville Road, 

Dayton, Oh 45459

Reception 6:30 PM Program 7:00 PM
October 15, 2019
Dan Baker & Gwen Nalls
Blood in the Streets – 1965 to 1975 – Dayton, OH
Come hear and see a presentation by the authors of "Blood in the Streets: Racism, Riots and Murders in the Heartland of America." The book, published in 2014 by LT. Dan Baker (Ret.) and Gwen Nalls, is based on true events from urban America's most violent decade, 1965-1975.

Program details:
Dayton's West Side suffered three major riots and streets filled with 1,000 Ohio National Guard troops. The first riot followed the random drive-by murder of a black man by a white male who sped away. Several years later, desegregation of Dayton Public Schools sparked four summers of random murders of black men on the West Side by a white male who opposed integration and forced busing of children across town. The story follows a rookie cop who later became a homicide detective including when he came face-to-face with the killer at the scene of a sensational murder.

Copies of the book will be available for purchase at the presentation.
November 19, 2019
Mike Taint
"St Clair's Defeat and Its Aftermath –
Maybe the Most Significant Thing in Ohio History (You Never Heard About)"
Before Ohio became a state it was the first major battleground of the new US republic under the Constitution.  This presentation will discuss the growing pains of the new Government and particularly the War Department as it suffered a major setback, and then a complete military disaster – worst in US history - before General Wayne's ultimate triumph over the Native Americans.  Ramifications of this, now all but unknown fiasco, were significant – it caused:
the first Cabinet meeting and
the first Congressional investigation in US history. 
Lecture will be augmented with a brief photographic presentation of the sites, as they look today.
January 21, 2020
David Norman
Last Man off the Saigon Embassy Roof – Vietnam War
Dave Norman will describe the harrowing events of April 1975 when he was one of the last remaining people to be evacuated from the roof of the American Embassy, Saigon prior to it being overran by the North Vietnamese Army (NVA). 
February 18, 2020
Dennis Turner
What did you do in the War, Sister?
This book tells how Sister Christina and her fellow nuns bravely risked their lives by not only hiding refugees but also joining forces with the Belgian Resistance to report German troop movements and conceal downed American airmen.  They believed their ordeal was over in September of 1944 when American troops liberated Saint-Hubert. That hope was crushed, however, when Saint-Hubert was recaptured by the German army during the Battle of the Bulge, forcing them to endure intense American bombing while sharing a cellar with German Stormtroopers.
Dennis Turner's friend, Sister Kim Dalgarn, the Archivist for the Sisters of Notre Dame de Namur in Cincinnati, discovered in the back of a file cabinet a treasure trove of letters and other archival documents written by the Sisters during, or shortly after the War. These letters were the basis for this book.    
March 17, 2020 

 Postponed -- Future date/time TBD
Nancy Garner
Women's Suffrage 
Dayton's participation in the Woman's Suffrage Movement is well documented and will be explored in this program. Some of the featured women include Hallie Quinn Brown, Dayton teacher and national activist for African American and women's rights, Katharine Kennedy Brown, who began her political career in the Woman's Suffrage Movement and then went on to prominent participation in the national Republican party for the rest of her life, Martha "Mattie" McClellan Brown, Kathleen's mother-in-law, who was active in temperance and suffrage work during the late nineteenth century, Louise Achey Kennedy, Kathleen's mother who was a social matron and activist in the D.A.R., and the temperance and suffrage movements,  Charlotte Reeve Conover, a local historian, literary figure and prominent suffrage activist, Jesse Leech Davisson, who was very active with the suffrage movement locally and nationally, and  Katharine "Katie" Wright (Haskell), who was very devoted to women's suffrage.  
April 21, 2020
Tim Gaffney
Dayton Beer 
Tim Gaffney will talk about his new book, Dayton Beer: A history of Brewing in the Miami Valley (Arcadia Publishing, July 2019). The book reveals new information about brewers who created a thriving industry in the Dayton region from the time it was first settled until Prohibition. It also describes the influential role of Ohio's temperance leaders and how Prohibition swiftly destroyed the region's robust brewing industry. Finally, it describes the rebirth of craft brewing in recent years and includes a directory of brewpubs in the Miami Valley. You can find his blog at Dayton-Beer.com.