Veterans Exhibit & Open House
2023 Veterans Exhibit & Open House
Noveber 9-12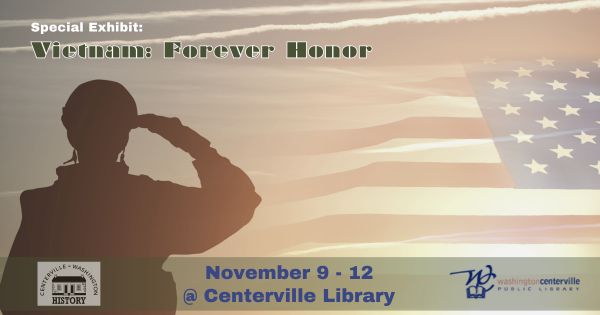 Centerville-Washington History and Washington-Centerville Public Library will be hosting our annual exhibit as a tribute for all veterans from November 9-12.  Uniforms, artifacts, and historical items will be on display. This year the exhibit pays tribute to the Vietnam War experience including reflections on the summer's The Wall That Heals exhibit. 
A reception following the Veterans Day Ceremony at 11:00 AM November 11 at Stubbs Park will be held, and the public is invited for light refreshments. 
At 1:00 PM on Saturday, November 11, Dr. David Meyer will speak at the library about his experiences during the Vietnam War. Dr David Meyer was raised in a large family on a farm in Northern Ohio. A Vietnam War-Era Air Force veteran, he is an accomplished public servant who has greatly impacted the Dayton area as a Professional Engineer. Dave, along with his wife Kathleen, became a member of Centerville-Washington History in 2015, and he joined the Board of Trustees in 2017. He has taught at The Ohio State University, The University of Dayton, and is a Professor Emeritus of Sinclair Community College. In 2020 Dave was honored as an inductee into the Ohio Veterans Hall of Fame.
The 2023 Veterans Exhibit will be open to the public in the Centerville Library Community Room from Thursday, November 9 through Sunday, November 12 during normal operating hours. The exhibit closes one hour prior to the library closing.
Location: 

Centerville Library

Cynthia Klinck Community Room
111 W. Spring Valley Pike
Centerville, OH 45458