84 North Main Street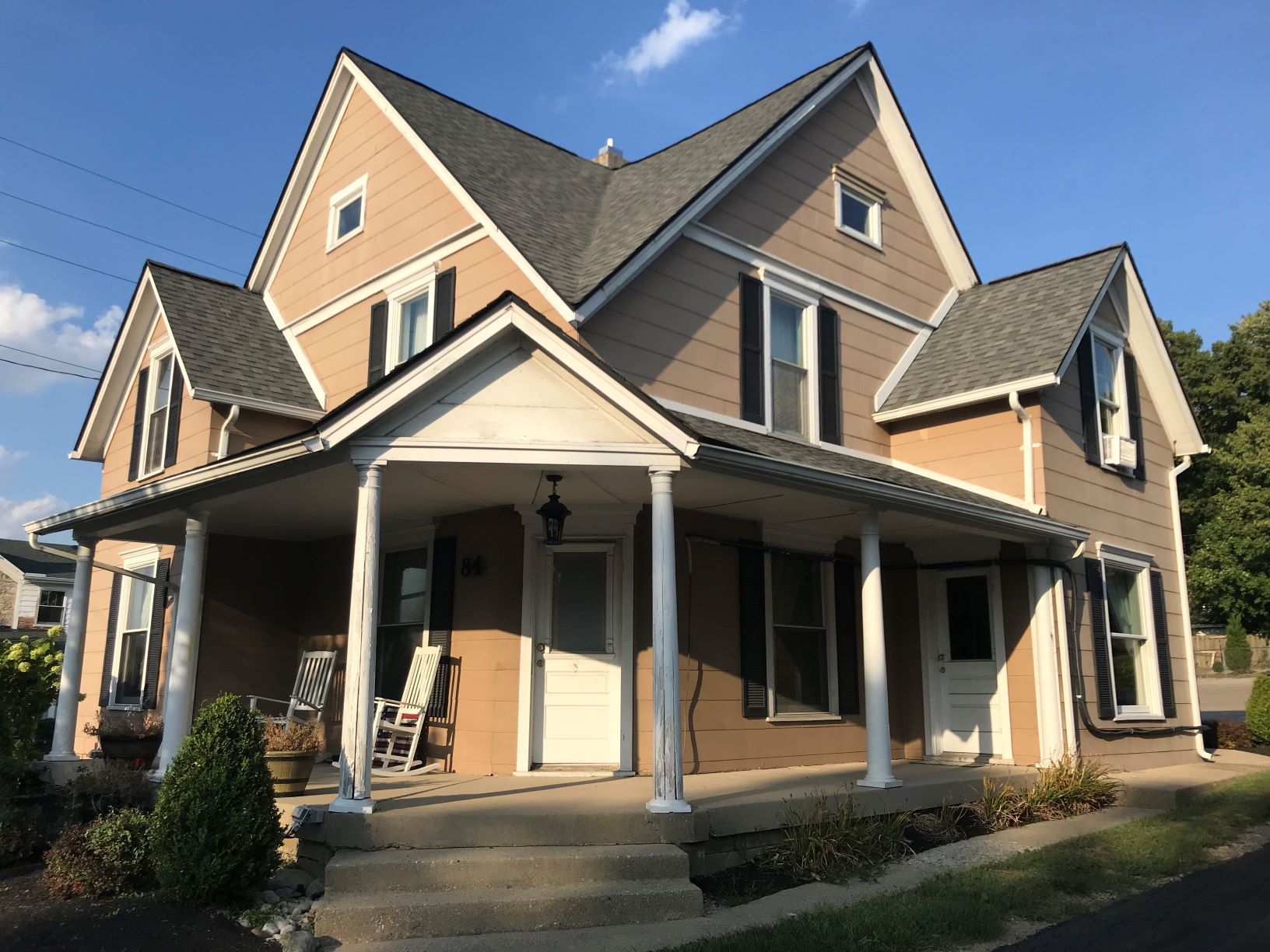 84 North Main Street
 By Ferne Reilich, Curator
The Curator, December 2007
It's always exciting to see changes taking place in our Historic District and here at Nutt Cottage we've recently been able to watch the progress of our neighbors to the north, at 84 North Main Street. You may have noticed, as you drove down the street, that the new owners are right in the midst of painting, repairing and making some interior renovations.
 This building is identified in our files as the Weller house, but we don't have any indication of which of the sons from that large family may have lived there.  Surprisingly, the building is on the Ohio Historic Register and was built in 1895.  The shingles which now form the siding, may have been added in the 1920's or 30's, but the building still retains it's distinctive, classic revival porches with slender, white columns. It is also notable for it's many, one over one, double hung windows which are now beautifully accented with black shutters. Inside, there are antique, ornamental moldings around those windows as well as the doorways.  Between the two front rooms you can also see sliding pocket doors, which gives us a further clue to the age of the house.
 Those members that have been residents of Centerville for many years may remember when Mary Manuel and her step-sister, Minnie Allen, lived there.  Our research tells us that Mary was a daughter of James Manuel, the highly regarded stone mason, who lived off of West Franklin until 1926.  Minnie was his step-daughter by his second marriage and his short biography mentions that the sisters took care of James during a severe illness and "gave of their love and strength to the utmost" for their father.  Minnie is also remembered as an excellent seamstress, and the two spent many happy hours at the house.
 Now we are excited as we watch the progress and especially enjoy the new, warm beige colored paint which has replaced the faded gray on the outside.  The windows too, are gleaming under their fresh coat of white paint.  Be sure to notice the cornice caps, on the windows which have been carefully retained.  As you drive by, you may see the new shrubs and grass which have greatly added to the improvement of the house, as it enters another chapter in it's historic life.