General Edmund Munger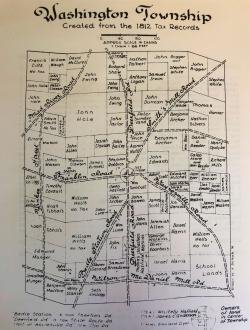 Map created from 1812 tax records

Note Munger properties in southwest corner of township.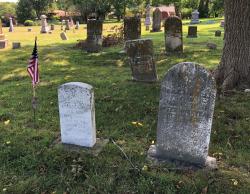 Brigadier General Edmund Munger (left) and Eunice Weller Munger (right) in Sugarcreek Baptist Church Cemetery
Edmund Munger lived from September 30, 1763 to April 14,1850. 
Edmund, brother Jonathan, and nephew Benjamin Maltbie plus their families moved to the area in 1799 from New England. It was a horrendous journey that took two years. Soon after settling, the Kellogg and Tibbals families, also from New England, joined them. They settled in the southwest area of the township on and around current day Yankee St. Hence the name of the road…Yankee, settlers from New England.
Edmund's 500+ acres were just north of what are now Austen Pike/Social Row Road and lay on either side of Yankee Street. 
Edmund was a blacksmith; he bacame very involved in community politics and policies.  He was a county commissioner (1804-1808), served in the Ohio Seventh General Assembly, and was the Washington Township clerk (1809-1826). He helped to start a local library in 1810.
Edmund had a very heroic military career and made significant contributions in the War of 1812. The Ohio Militia was under his command and he was respected among his men.
He and his wife had 10 children.
At age 86, he fell off a ladder in his barn and died. His wife Eunice lived until she was 101 years old when she passed on January 5, 1868. They are burried in the old Centerville cemetery, the Sugarcreek Baptist Church Cemetery. 
A book about Edmund Munger, "From Blacksmith to General," is available from Centerville-Washington History. Contact us to learn more.