Pauline Webster
Pauline Webster: A Local First
By Marcia Rouse, Education Coordinator
The Curator, February 2010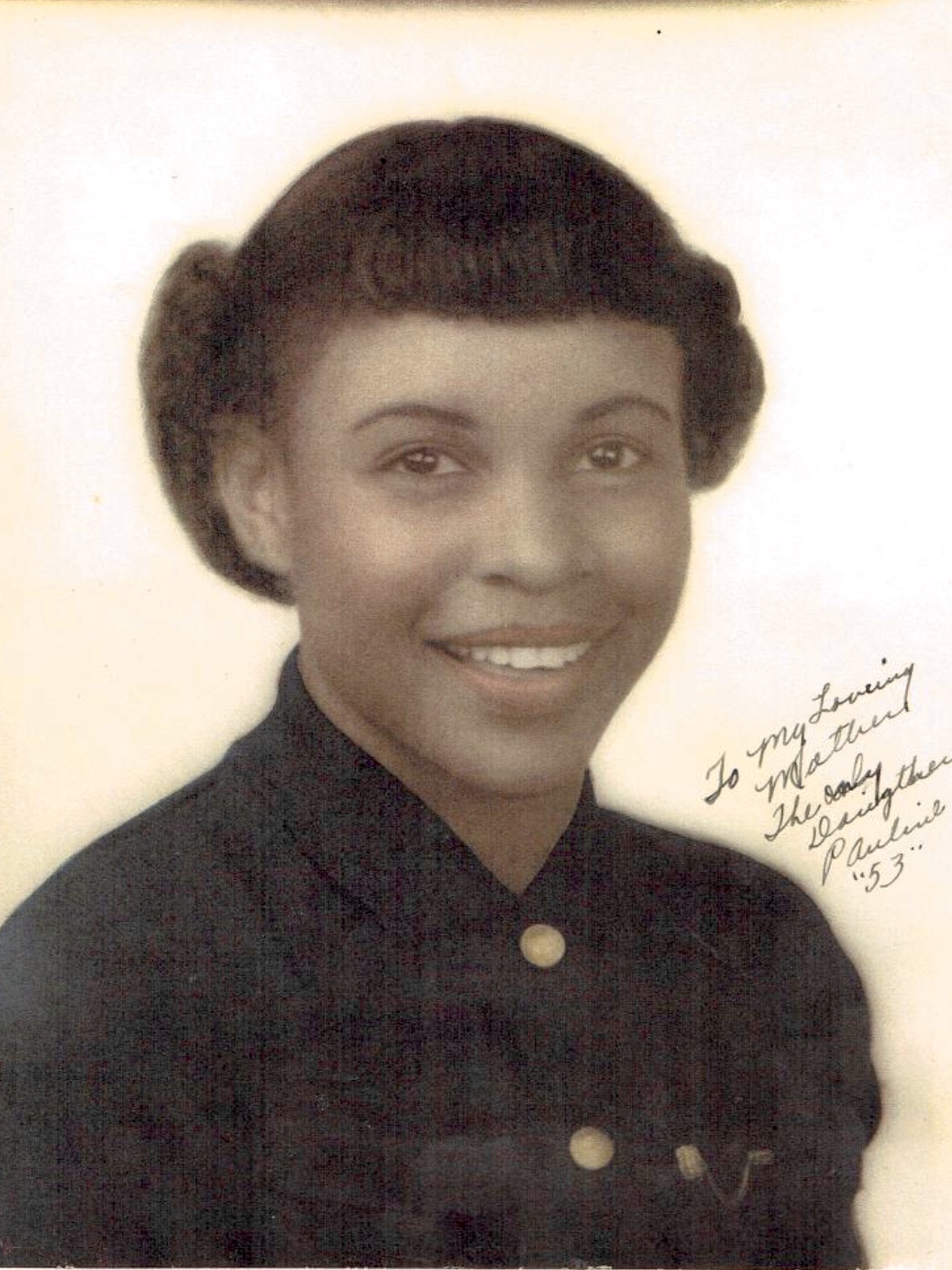 Pauline Webster was the first black graduate from Centerville High School.  Pauline's story was recorded in "A History of Blacks in Centerville & Washington Township," by Janet Smith Thobaben.  In observance of Black History Month, we would like to recognize this milestone in our local history by re-telling Pauline's story, as follows: 
"In 1953, Pauline Webster was the first black student to graduate from Centerville High School. Over the years many had attended Centerville schools but she was the first to be graduated.  Her parents worked for John T. Patterson on Mad River Road. The Pattersons had a son Timmy and daughter Gay . . . Pauline played with Gay and Timmy and their friends . . .Pauline grew up with the Patterson children . . . Pauline did not encounter much prejudice until she left the local area.  When she went with students to Rike's Department Store to have graduation pictures taken, she was not permitted to eat lunch with the other students in the Second Street dining room. This upset her greatly so she ran away to the bus station.  The unhappy experience at Rike's prepared her somewhat for the Washington trip.
The reality of being black in America's socially segregated society reared its ugly head again when Pauline and her class went to Washington, DC to visit the Nation's capital. Pauline was allowed in the same hotel but away from her classmates.  Later she was not permitted into a movie theater with them.  It was also a lesson in segregation for her classmates and teachers.
During high school, Pauline worked at the Wishing Well Restaurant with some of the other girls.  After graduation, she met and married Booker T. Trammel ..."
_________________________________________________________________________________
Pauline Webster Trammel is one of five women featured in the exhibit: 
A Sense of Strength: Incredible Local Ladies from History 
at the Asahel Wright House Museum in 2021
Pauline "Polly" Webster Trammel
by Joellen Ulliman, Curator
Amidst rising racial tensions in our country during the early 1950s, Hattie Mae Webster moved with her four children to the Dayton area from Columbia, Tennessee. Two sons lived with an aunt in West Dayton and attended Dunbar High School. One son, twin to daughter Pauline, was left deaf from a bad case of measles at age 3, so Hattie sent him to a special school in Columbus. Hattie obtained work as a live-in cook for the John Patterson family in rural Centerville. In fact, according to the 1950 census, only 827 people lived here. Primarily the residents were farmers. Hattie and Pauline lived in first floor quarters of the spacious Patterson home.
Polly joined the all-white class of 1953 as a freshman. There were only 23 students in the class. They were caring friends. She participated in many activities such as the Latin and home economics clubs, girls' chorus, Elktonian staff, secretarial classes, etc. A classmate remembered her as quiet, but when she spoke, people listened. She was described as "classy, well-liked, and very fashionable." Socially, she spent a lot of time at the West Side YWCA when she and her mom went to her aunt's home on days off.
When interviewed by both Centerville-Washington History in 1999 and the Dayton Daily News in 2000, Polly recalled two incidents of prejudice during her high school experience: one while having lunch at Rike's on a class outing to Dayton and later while attending a movie in Washington, D.C. on a field trip. In both circumstances, ticket takers would not admit her and called their managers. She was upset, shocked. The first time it happened, she said, "Then it hit me like a hot wave. It just came over me, and I just dropped everything and ran. I knew that was a place I wasn't supposed to be…. I didn't know what prejudice was until then, at the particular moment…."
Polly was Centerville High School's first Black graduate in 1953. Right after high school, she married and had one son. After three years, she divorced. Later, she married Booker T. Trammel and had two more sons. Throughout her adult life, she worked at McCall's Printing, as a cashier at Blairwood Elementary, and as a supervisor for 23 years at Top Value Stamps. She enjoyed cooking, catering, and babysitting her grandkids.
She stayed close to her former classmates through visits, calls, and reunions. Polly died at age 79 in 2014. In the interview done fourteen years prior, she explained, "I don't regret going to Centerville. I learned a lot. I learned just to be myself. If I had it to do over, I'd do it all over again."