Mary Gerhard Creamer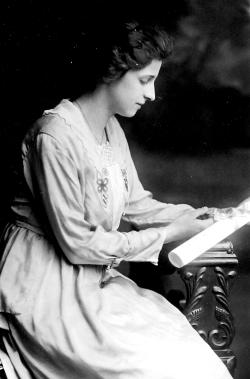 Mary Gerhard Creamer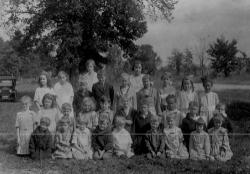 Woodbourne No.9 Class of 1920

Back row: Mary Gerhard - teacher, Esther Perkins

Third row: Marguerite Donaldson, Marguerite Keating, __Rossell, Robert Swallow, Mildred Long, Ada Sieber, Thelma Rossell, Winifred Yeazel, Evora/Marian Perkins

Second row: Dorothy Gessner, Thelma Himes, __Mockabee, Aubrey Himes, Arthur Gessner, Kermit Long, __, Marian/Evora Perkins, Rowland Long, Hilda Long

First row: __Cochran, Evelyn Rosell, Margaret Guessner, __Mockabee, Robert Kress, __Cochran, Verda Sieber, Evelyn Allman, Mary Yeazel
Mary Gerhard Creamer, graduated from Centerville High School in 1918, she was one of eleven students.  She grew up on the family farm on East Whipp Road where the Red Coach neighborhood is today.  She attended Schoolhouse No. 4.
Mary left teaching in 1924 when her daughter was born, but returned when she started school.
Mary received a bachelor's degree and a master's degree from Miami University.  She retired in 1968 after teaching for 36 years; 17 years in Washington Township and 19 years in Oakwood. 
Caroline Burnet, a colleague, described her as "...a very happy person, and flakes of happiness seemed to fill the room and spill over the children."
Verda Sieber, a student, said her teacher's life was like "a lovely long-stemmed rose..."
"The school was like a large family.  We'd play together, all the time.  When we worked, we worked, but when we played, we played.  That was our motto."
Mrs. Mary Gerhard Creamer was the last teacher to provide instruction to some 30 children in the eight grades during the last five years that Woodbourne Schoolhouse No. 9 served as a school. In reminiscing about these years from 1919 to 1924, Mrs. Creamer was reported in the March 16, 1977, issue of Shop Around South, a Dayton newspaper advertising supplement, as saying:
"Geography, history, reading, language and writing, math and mental arithmetic were the daily topics. The nearby woods and fields provided a ready-made nature study area for informal natural history classes. On the hot days of August, the children would wade in the nearby creek.
"It was practically individualized instruction, because you would have only one or two in some grades. I would never slight a single child, but you had to keep at it all day. We believed that every child deserved whatever we could do for them. It was like a large family. The older children, when they finished their assignments, would go to the back and help the younger ones, the first and second graders.
"We had a bell in the belfry. I had to get there in the morning to ring the first bell at 8, walking about a half mile down a dirt road. Then we would take up at 8:30, with an hour for lunch. We would eat lunch under the big trees in the schoolyard, or climb over the fence into the woods and picnic - the owners never minded. It was a long day, but we needed it to get through all the required material.
"During those years as a teacher, I was the janitor, too. I stayed behind to sweep the schoolroom every night and wash the blackboards. The last two years, there was the nicest sixth grade boy that I paid to do it. He would come and start the fire in the morning, too - you have no idea how cold that room could get."