Colonel Edward & Edith Walton Deeds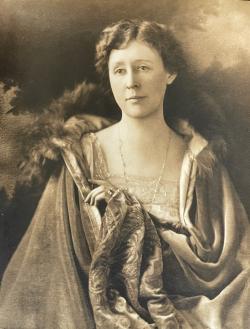 Edith Walton Deeds (date unknown)
b. Nov. 27, 1869 (Spring Valley, OH)
d. Feb. 9, 1949 (New York, NY)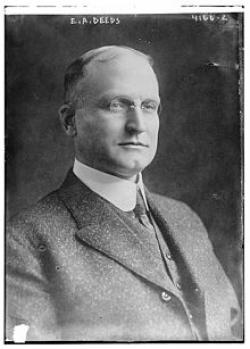 Edward A. Deeds (c.1917)
b. March 12, 1874 (Granville, OH)
d. July 1, 1960 (Dayton, OH)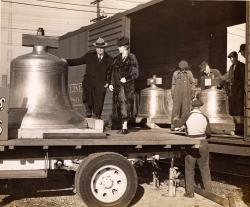 Colonel and Mrs. Deeds inspecting the carillon bells c.1941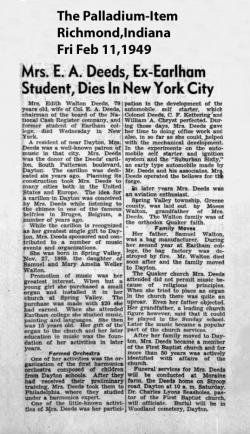 Edith's obituary
Colonel Edward Deeds and Edith Walton Deeds were an important couple in the Dayton community. They also have a very important connection to Centerville and the Walton House. 
There is a photograph of a beautiful and clearly well-off woman displayed in the bedroom of the Walton House. She is identified as Edith Walton Deeds, sister of William Walton. This sibling connection, along with Edith's marriage to Colonel Edward A. Deeds, is an important piece of history in the preservation of the stone building at 89 W. Franklin Street, the Walton House.
Edith Walton was born November 27, 1869 in Spring Valley. She was the oldest child of Samuel and Mary Amelia Weller Walton, and she had two brothers, William and Robert. They were raised in a Quaker home and their father was a successful bag manufacturer. Edith attended Earlham College in Richmond, IN and studied music, painting, and languages. She moved with her family to Dayton after a factory fire destroyed the manufacturing business and after her father passed away in 1891. Because of her love of music, she became a member of the First Baptist Church in Dayton where she would eventually meet Edward Deeds in 1897. At that time Edward was a young draftsman for the Thresher Electrical Company.  (Edward was born March 12, 1874 near Granville, OH and graduated from both Denison and Cornell Universities studying electrical engineering.)
Edith and Edward Deeds were married in 1900, just a few months after Edward had become a factory engineer at National Cash Register (NCR). Edward's career took off through his own talents, ambitions, and connections to several of the great Dayton innovators of the day including Orville Wright and James Cox. Some of his local accomplishments included the founding of DELCO (1908) and the Engineers Club of Dayton (1914) with Charles Kettering, presiding over the Miami Valley Conservancy District after the 1913 flood, commissioned as a Colonel in the Army Air Corps during WWI in charge of aircraft procurement, and returning to NCR as its chairman in 1931 to navigate the depression years and beyond. The couple built and lived at Moraine Farm on Stroop Road in Kettering. They also purchased and donated several tracts of land in Dayton to the city for conservation over the years. Much more about Edward Deeds can be found widely across the internet!
Some people may remember Edith Walton Deeds portrayed as an animatronic life-sized figure that once greeted guests at Carillon Park. However, she is best known in Dayton for bringing the Deeds Carillon itself into existence. Edith was inspired by the church bell towers she had visited in Belgium. She oversaw every detail of their design and construction and was the first to play the carillon when it was completed, playing the Doxology. Small silent bells are dedicated to deceased members of the Deeds family when the tower was built, including Edith's father and mother. She was a great patron of the musical arts both locally and across the country as she served as the head of the Department of American Music in 1925. It was also noted that she was active in supporting her husband's pursuits by bookkeeping (and sometimes operating the bellows when the forge was fired) in the early DELCO days and becoming an aviation enthusiast - she was the first passenger in one of Edward's planes.
The Deeds had three children but only one survived to adulthood. Charles Walton Deeds and his wife, Ruth provided three grandchildren to Edith and Edward. Edith remained close to her brother William and his wife, Mary, over the years and the couples were known to travel together. Edith died on February 9, 1949 at the age of 79 in New York City in her suite at the Park Plaza Hotel. She is buried in Woodland Cemetery along with her husband (d. July 1, 1960 at age 86), and several family members.
Edith's brother, William Walton passed away in 1950. Mary Walton passed away in early 1971 and left her home and estate in Centerville to her great-nephew and great-nieces, the Deeds grandchildren. These family members, now living outside of Ohio and successful in their own endeavors, gifted the house to the newly formed Centerville Historical Society so that the house could be preserved and used for educational purposes.
Sources:
https://daytonunknown.com/2021/11/12/edith-deeds/
https://daytonunknown.com/2020/05/29/colonel-edward-deeds/
https://woodlandcemetery.org/search-records/
Photo Credits:
https://blogs.libraries.wright.edu/news/outofthebox/2014/09/26/deeds-carillon/deedscarillon_sm03/
https://images.findagrave.com/photos/2018/342/78588380_2d038299-17c5-4bed-a05d-e9a193433657.jpe