Walton House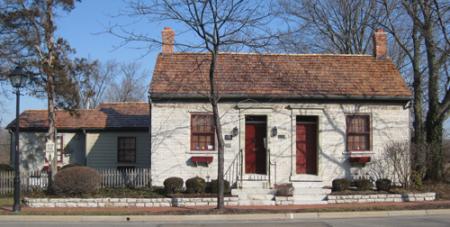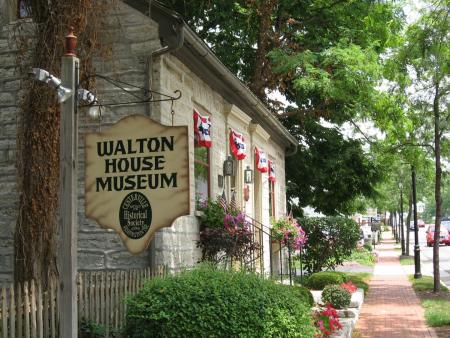 The Walton House Museum is open to the public Tuesday thru Friday from noon to 4 pm and is the location of the administrative office for Centerville-Washington History.
This stone house at 89 W. Franklin St. was built in 1838 by Henry Reese, who had purchased the land from Benjamin Robbins, one of the founders of Centerville.  Henry Reece from Lebanon owned the lot for almost a decade before selling it to Zenos Hines.  The Reeces were Welsh and known as stonemasons.  Hines was a carpenter and plasterer, born in Maryland in 1804.  The house changed hands frequently until William and Miriam Walton purchased it in 1927, remaining until Mrs. Walton died in 1971.   Her nieces and nephews, descendants of Colonel Edward Deeds, gave the house to the Historical Society for its headquarters and museum.
The house is a four-bay hall and parlor cottage with double front doors.  The doorways have paneled woodwork, cornices, and five panel doors.  The windows are 6x6 with "marching soldiers" lintels.  The house includes dental frieze under boxed gutters, a little roof overhang on gable ends, and corbelled gable end interior chimneys.  Limestone is placed with larger and smaller stones forming a pattern similar to Flemish bond brickwork using grapevine mortar.  There is outstanding interior woodwork including cupboard, fireplace, and winder stairs to the attic and cellar along the west wall, and an additional fireplace on the east wall.  The winder stairway to the attic has metal rings on the wall, placed conveniently to grasp while climbing the stairs.
The Walton's added four more rooms, matching the exterior as closely to the original building as possible.  They took down the partition in the original house, transforming the space into a 30-foot living room with fireplaces at each end.  They preserved the old chair-rests and wallpapered the walls with period style paper, the dining room using the same found in the George Washington home at Mr. Vernon.  They filled their house with antiques which were diligently researched for authenticity by Mary.  The home attracted curiosity seekers and art lovers who would stop by and ask to inspect the grounds and the interior of the house.