Moses Irvin House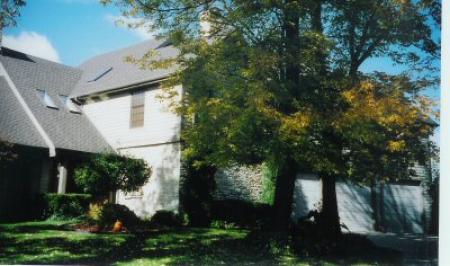 Much of the original house is gone. The limestone walls were incorporated into a new house in the 1980's.
Date:  1831
 Features:  This building was originally a single-story limestone build in an L shape, with a second story frame addition added in the nineteenth century and in 1914.  The limestone part of the house was very similar to stone houses in northeastern Pennsylvania with a beehive oven with a small addition adjoining it for wood storage; a pay window where workers could file by for their pay; excellent woodwork around the doorways and fireplaces, and a tight winder stairway.  In the cellar was a board and batten door with a very early wrought iron latch.  In 1990, most of the limestone parts of the building were demolished except for one front corner.  The pay window remains but is covered by wall board in a bathroom.  The beehive oven has been made into part of a large stone fireplace where the 1831 date stone was added.  The basement was filled in completely, the interesting latch having already been removed by the last renter.  The woodwork was promised to the historical society, but the barn where it was stored was demolished the day before it was to be picked up by the historical society.  The building is now a 4700 square foot modern house.
 Owners:  Samuel Irwin first entered the land where the house is located in 1802.  He divided his 240-acre quarter section into 60-acre lots for each of his sons.  After his death in 1826, his son Elim inherited his acreage.  Elim sold the acreage to Moses Irvin so that he could move to Indiana where land was cheaper.  Moses Irvin built the present house in 1831.  Moses Irvin, married to Rachel Tibbals, daughter of Noah, represented the early settlement of the area.
 Other:  The outbuildings included a barn, a smokehouse, an old butcher house with a brick furnace, a water trough dated 1871 with a pump.  All the outbuildings are gone; an area of 23 acres was zoned for high-density housing.  The City of Centerville passed legislation in the 1980s to give protection to historical houses outside the Architectural Preservation District because of the perfidy of the developers of this land.