Thomas Horner Springhouse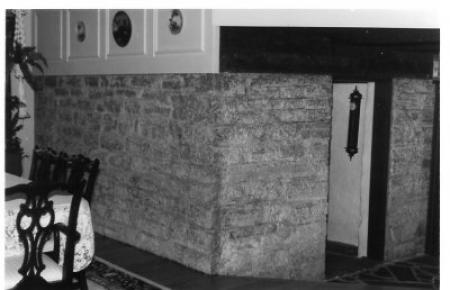 The springhouse once stood separate from the house is now incorporated into it.
Date: early 1800
Features:  The one-bay limestone springhouse originally stood separately from the house, but in the 1960s the owner enlarged the house to include the springhouse.  It is between the dining room and the family room and now serves as a wet bar.  One of the stones on the east side in 43 inches long.  Some pyrite spotting of the limestone is located on the front side as well.  The interior of the spring house is plastered.
Owners:  Thomas and Ann Horner, Quakers from North Carolina, came to this area in 1802 and purchased a section of land where the house is located.  In 1823, Thomas willed the southeast quarter section to their son, Joseph, with the provision "that his mother is to have the east end of the dwelling house during her natural life; and he is to provide a sufficiency of provisions for her and this sister, Elizabeth..."  The springhouse probably was built in the early years of the Horner family residency.