William Blair Springhouse and Root Cellar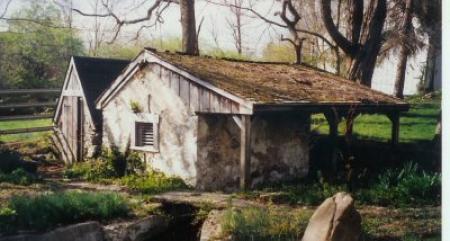 The original Blair house is believed to be the present dining and living rooms. A bubbling spring still exists today making a pool beside the springhouse.
Date:  c. 1810
Features:  The springhouse is almost square and is plastered inside and out.  Some flaking plaster shows the building is primarily of creek stones with small fossils.  The rafters are pegged.  The doorway is on the north side of the building where a spring basin is located.  The stone in the basin is brush hammered and the corners are fastened with metal staples.  The basin is 22" deep with a rim 3" wide and outside dimensions of 30" x 40."  A grooved stone carries the overflow water to the springhouse.  The roof extends about five to six feet over the north and east sides of the springhouse and is held in place with hewn logs 7" wide and 10 1/2" high.  A louvered window is in the south gable end.  A water area inside measures 6'9" by 4'6."  Hidden behind the larger springhouse is a small A-shaped limestone root storage building.  A door, 30" wide and 64" tall is in the south gable end.  The upper part of the gable is completed with frame.  Looking inside, large fieldstones are visible around the lower edge and serve as the foundation.  The side stone walls are 36" tall, the back wall is 43" tall.  On the side walls, there are stones which protrude 4 to 6 inches, indicating that the sides were to be covered to insulate the contents.
Owners:  The area where this building is located provided a retreat for the original surveyors in 1796 when they noted signs of Native Americans in their original camp.  Early historian, Joseph Nutt, referred to the buildings as "the old Partington buildings."  William Partington and wife Sarah owned the 50-acre farm from 1821 to 1833 and the buildings may date from that period.  The first deed for the farm was in 1814.
 Other:  The 50-acre farm has been subdivided into a major suburban area of homes.  The spring for the springhouse was made into a pond with a cement bottom in the 1920s.  A private lane leads to the house from Alex-Bell Rd.  The springhouse and root cellar create a centerpiece for the back yard.  A walk runs in front of the springhouse and along the south side of that building to the root cellar.