William Morris House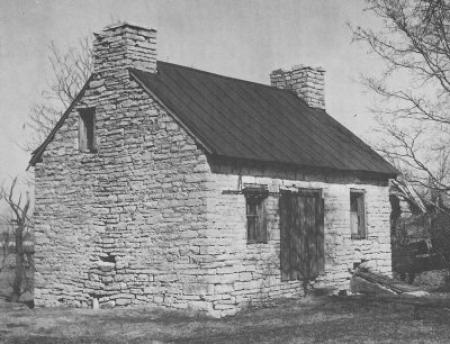 The National Cash Register Company (NCR) had all the stones carefully marked when it moved the house to Carrillon Park in 1953.
Date:  1815 or later.
Features:  This house was built of white limestone with walls about 18 inches thick.  The inside surface was plastered and the interior walls of the downstairs were whitewashed.  The interior dimensions are 15 by 23 feet.  The floor joists, rafters, and shingle laths were hand hewn from white oak.  Wood trim, the door and the window frames were of black walnut.  In the reconstruction, the wood floors were replaced with stone.  The fireplace chimneys are a part of the end walls.
 Owners:  The 20-acre plot on which this house was built was sold by Abner Garrard in 1815 to William Morris.  When the Morris's sold the property in 1838, the sum was quite a bit larger indicating that a building was on the property.  There were several owners, including Elizabeth Morris who sold the property to Hugh E. Brunk in 1896.
 Other:  This stone house was originally located at 1087 W. Social Row Rd.  In the spring of 1953, it was torn down and moved to Carillon Historical Park, where it was rebuilt, using the original stones and timbers.