Elisha Jones House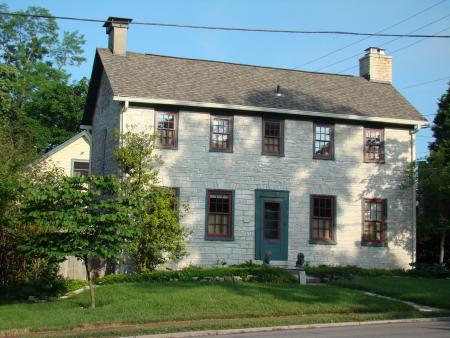 The house has faithfully been preserved over the years by it's many owners.
Date:  1825
Features:  This building is a five-bay façade with a centered doorway.  The doorway has a rather plain surround with some molding.  The rectangular windows with 6/6 D.H.S. have keystones with radiating voussoirs on the lower windows, with wood sills. The eaves are box cornice, gable verge projecting with fascia only.  The chimneys alternate inside south (original) and outside (added) on the north.  The Dayton limestone walls are 18" thick with traces of pyrites on some stones.  The interior retains the original central hall and stairway.  The north parlor's federal fireplace mantel is beautifully decorated with reeding, fluting, and molding.  Much of the original woodwork is still intact as is the hand-forged brass hardware.  An ell to the west may have been an earlier section of the house.
 Owners:  The auditor's records indicate a jump in value for this house and lot from $70 to $700 between 1826 and 1827, indicating the house was probably built around 1825.  Elisha Jones, the owner, was a blacksmith with his shop next to the house, partially on Lots 3 and 4.  Jones was an Overseer of the Poor in 1828-29 and a Washington Township Trustee in 1830.  In 1833, when pleasure carriages were first taxed, Jones had the most valuable one in the township.  But hard times came by 1834 and he got a loan that he "disregarded" and the court auctioned the house in 1836. 
 Other:  This building is a private residence and includes a garage and gardens.