David Watkins Smokehouse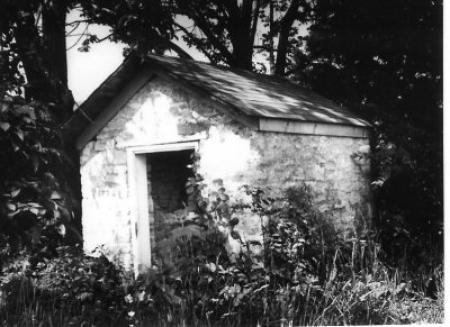 Date:  1805
 Features:  The limestone smokehouse dates to the early settlement of the township.  The gable ends of the building are located at the front and back.  A 49" x 3" wooden lintel is above the door.  The stonework includes plaster with a scrolled design, especially on the back side.  Most of the stone is quarried and a variety of fossils as well as quartz crystal are in the stone.  Four beams span the interior with nails for smoking meat.  The blackened rafters have no pins to join them.  The stone wall are 16 inches thick.  A 5- or 6-inch wide plain board is located under the eaves.  The overhang for the roof is narrow except over the doorway side.
 Owners:  William Watkins entered the land where the smokehouse is located in 1805.  The Watkins family history is rooted in Wales and members of the family were stonemasons.  William's son David built the accompanying house in 1837.
 Other:  About 1974, this area was sold to developers who saved the house and smokehouse, putting them on the same lot.  The walnut timbered barn was lost at that time in a fire.  The house is now part of the Washington Creek Subdivision.