Lawson Allen House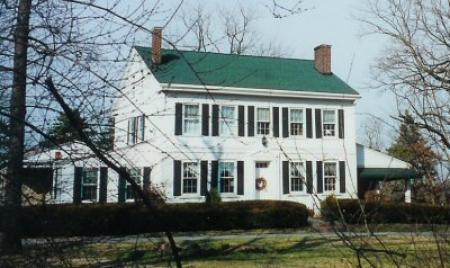 The original house was a single story with an upstairs loft and a cellar.
Date:  The lower limestone portion of the house was built, circa 1838 and the upper addition was built between 1845 and 1850.
Features:  This is a five-bay two-story house.  The first story is of limestone with a centered front door. The panels on the doorway surround reflect the divisions of the front door. The lintels for the windows on the lower façade are large rectangular stones.  A dining area is to the back left.  A 7'7" wide fireplace is in the dining room with an original cupboard to the right.  Bark covered logs serve as joists under this section and it may represent an older part of the house.  The front of the house has hewn joists supporting it; this section was originally two rooms and the division beam is still visible in the ceiling.  The stone part was built by 1838, the upper frame section built around 1850.  The shiplap siding has been covered with vinyl siding in the past decade.  The mantels in the living room and in the upper bedrooms are Greek revival.  Each of the four bedrooms features woodwork with a different motif.  A wooden arched surround is at the midpoint of the upper hall.  Porches were enclosed in the 1930s while several rooms were added in stone and frame to the rear in 1976.
 Owners:  The land where the house is located was originally a 60-acre tract, purchased by John Beck from John Cleves Symmes.  Beck had to repurchase the land through the Cincinnati Land Office and made his first payment December 29, 1801.  His assignee, John Edwards, made the second payment September 2, 1805.  By 1810 the 100-acre tract, making up the rest of the quarter section, became part of his farm.  The earliest part of the house may represent Edwards' ownership in 1805.  His granddaughter and her husband, Lawson, and Frances M. Silvers Allen, became the owners in 1830.  Auditor's tax records indicate a significant part of the house was built in 1838.  In 1850, another significant jump in value indicates the second story was built.  All the families represent the very early settlement of the Centerville-Washington Township area.  In 1856, the Allen's son, John E. Allen, purchased the two tracts of 166 acres and developed a stone quarry northeast of the house.  This quarry operated until 1940.  The house is still a residence on .5 acres and adjoins a residential plat.