Michael Shank Springhouse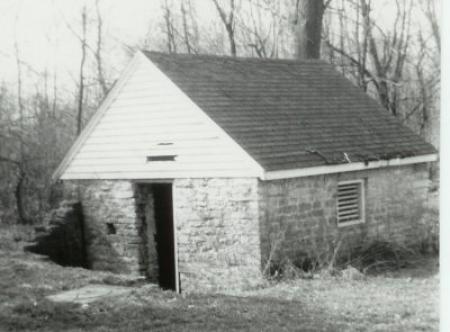 Date:  1816
Features:  A limestone wall 18 inches wide on the left and several steps on the right flank the east side entry into the springhouse.  The centered door is 35 inches wide.  A cistern is located near the southeast side of the entry. Inside the spring house a water trough 28" wide directs the water along the north side.  A window is centered along that side of the building (32" wide) as well as one on the back or west side (34" wide).  The limestone has some pyrite markings and small stones tucked into the structure as ties.
Owners:  Michael Shank was a son-in-law of John Ewing, one of the first settlers of the area.  Ewing gave Shank one hundred acres of land in 1816.  The springhouse probably dates to this period.
Other:  In 1992, a 13-acre estate containing a World War II era home that formerly belonged to William P. Patterson, the great-nephew of John H. Patterson, founder of NCR Corporation, and this springhouse was developed into Kingsley Park.  The development added twelve houses to the acreage.  The springhouse is located adjacent to a pond and houses the pumps for it.