John Hatfield House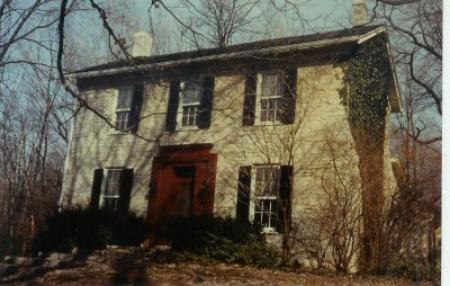 John passed away in 1829. In his will, he charged his wife and executors to build a comfortable stone house on his land in 1829 or 1830.
Date:  The house was built in 1830.
Features:  This is a three-bay building with the door located in the center.  The decorative front doorway is from the Barney Mansion, demolished in 1968 in downtown Dayton.  The doorway was originally wider and known as a coffin door.  Windows are 6/6 D.H.S.  Radiating voussoirs of "marching soldiers" are over the windows.  Two interior gable end chimneys can be seen.  Visible on the left gable end is the outline of the original one-and-a-half story roofline with two small attic windows filled in.  The second limestone story was added later. Inside the front door a narrow vertical board wall was located immediately to the left of the doorway.  Removed when the house was remodeled in the early 1960s, it had an opening in the center between the two rooms.  A similar wall upstairs was removed at the same time and a back hall created to provide entry into each bedroom.  Unmilled tree trunks are used for floor joists, and a flagstone floor sits in the cellar.  The two-story frame section was added to the back left, and a one-story family room was added to the right in 1962.
 Owners:  John Hatfield was the son of Thomas and Sarah Allen Hatfield, born in 1793 in Kentucky.  The progenitor of the Hatfield family came from Wales.  Thomas came from Delaware and served as a drummer in the Revolutionary War.  Both Thomas and his son John served with Perry's Rangers in the War of 1812.  In 1817, John married Nancy Hatfield, a distant relative, and the following year Thomas sold his son the 118 acres where the house is located.  John was a stonemason who died inn 1829 at the age of 36.  He provided for the building of a limestone house for his wife through his will written in 1829.
 Other:  The house is close to newer suburban houses.  The barn to the east of this farmhouse was divided from the property and made into a residence about 1970.