Edwin Smith House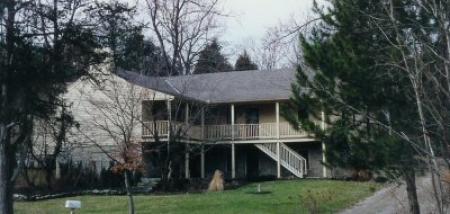 The stone portion of the present house was a Virginia style, one-room cabin with two, centered doors on opposite sides and a large stone fireplace on a third wall.
Date: Circa1803
Features:  Unlike most of the limestone buildings in the area, the lower part of the original two-story house is built with Ordovician stone rather than Silurian (Dayton Limestone).  Ordovician limestone is a darker gray and full of fossils, probably collected from nearby Holes' Creek.  The upper level is frame with braced framing and brick nogging.  The  original house is a three-bay bank house with centered front door; windows 6/6 D.H.S.  Sunshine windows are in the stone section of the house.  The lower stone section has a deep fireplace on the east wall with a stone arch over the opening.  Another stone fireplace is located on the second floor on the same wall, but they are flued separately to the chimney.  A boxed stairway with storage underneath in the northwest corner leads to the second floor.  An original five-panel door leads to a gallery porch from the second floor.  Much original woodwork survives upstairs including a board and batten door, cupboard, chair rail and baseboard. The attic has hewn rafters that are pegged and scribed with Roman numerals.  A room adjoining the west side of the second story may have been added in the 1830s.  A bedroom to the south was added in the 1940s.  Recently, a wall was removed from the 1830s addition and the building was extended to the north to reflect the earliest part of the building.  The lore of the house is that it was built when Ohio became a state.
 Owners:  Mad River Road on which this house is located is the earliest road in the area, surveyed in 1797.  It was located on land owned by Dr. John Hole, the first physician in Cincinnati and then in the Dayton area.  Edwin Smith owned the land and built the house.  In 1823, Dr. Hole's daughter, Matilda, whose childhood home was immediately north of the house, and Elisha Hopkins were married and moved into the house.  Hopkins may have operated a mattress factory in connection with the nearby industrial town of Woodbourne.  A bank house would allow a shop below, a house above.