John Beck House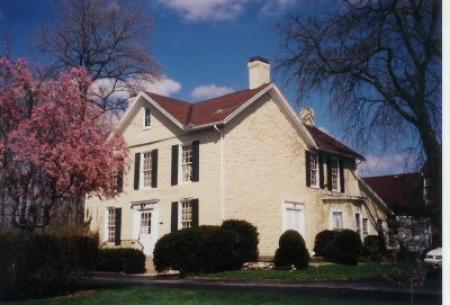 The original front of the house faced west toward North Main Street.
Date:  Early 1800s.
Features:  This building is a typical country federal style construction in native limestone.  The central door has a stock federal surround of the 1930s.  Windows are 9/9 D.H.S. (originally 6/6 above and 9/6 below on façade) with radiating voussoirs on the upper story and with keystones on the first and lower levels.  There are 2x2 foot square gable windows on the north side.  A wall dormer has been added to the front roofline as well as a frame addition (shiplap siding) with an Italianate one story bay in the 1860s (1864 patent dated box lock in this section).  There are two open fireplaces on the north side of the house featuring a keystone over the openings with new mantels, upper and lower floors.  On the south side of the house the fireplaces are closed off, but recently a ladder of wooden boards was found running from the first to the second floor alongside the upper fireplace.  The stairway which runs from the closed off first floor fireplace to the second floor along the back side of the stone building was probably added by the Becks.  The hidden ladder by the fireplaces may have served as part of the Underground Railroad.
The attic over the limestone building has oak rafters joined with tree pins and numbered with Roman numerals.  There is no ridgepole in this section.  In the 1860s addition and the front dormer, the rafters meet and are not pinned.  There is no ridgepole in this section.
Owners:  This limestone building sits in the 63-acre tract owned by the daughter of Aaron Nutt, Sarah, and her husband, John Beck.  Nutt sold them the land in 1813 and the house may have been there at that time.  This deed stipulated that "Aaron Nutt, Jr. who had adjacent land would have benefit of water for use of the house and tan yard, a sufficient quantity to be brought from the head of the spring on said above described piece of land..."  The farm stayed in the Beck family until 1862.  It was advertised in the Dayton Journal in early 1860: "The farm is nine miles from Dayton.  There are upon it, a Dwelling House, Barn, convenient outhouses, orchard, spring house and a never-failing spring." 
The Frank Harris family purchased the house in 1867 and may have been responsible for the dormer and Italianate addition.  The Harris family owned the property until 1965, selling off parts of the family farm over the years for a cemetery, an elementary school, firehouse, Post Office branch and a variety of commercial buildings.  It was known as the Old Harris Homestead.  It is used for business today.