James Harris House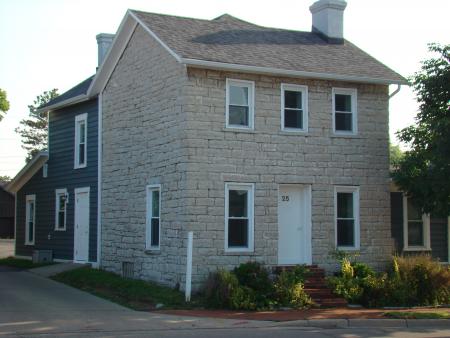 Date: 1838
Features: When mortar covering the limestone section of the house was removed in 1976, beautiful stonework was revealed on the two-story three bay front section.  Around the windows, doorways and corners, short and longer stones form a pattern similar to Flemish blond brickwork.  The sides of the house are worked with the same care as the front.  The central doorway is not a functioning door, but was restored to look like the original.  All the windows are 1/1 D.H.S.  The lintels (except one of the east side) and sills are of limestone; all the sills are margined.  The walls are 20 inches thick.
The wood trim used in the first floor is quite simple with a plain board serving as lintel with plain boards going down each side of the doorway.  Half-round molding is used on the fireplace mantel (on the east wall) and along the top of the baseboard on the north side of the room.
In the cellar the joists are 8 or 9 inches deep, three inches across with straight saw marks.  The joists are mortised into the stonework, then the end of each joist is held in place with a forged iron strap.  There is a relieving arch for the fireplace in the cellar.
Owners: The auditor's tax records indicate that James Harris erected this building in 1838.  Harris was born in Washington Township, but clerked as a young man for several years in Waynesville.  After his marriage to Rebecca Clark Jennings, he returned to Centerville to start his own dry goods and variety store.  From 1826 to 1829 he served as township treasurer and again from 1840 to 1842.  He served as postmaster from 1841 to 1843.  In 1835 he was the area's principal pork packer.  The house continues to be used for business.
 Other:  In 1976, owners received a Landmark Award from the Historical Society for their restoration work on the house, which included the removal of the plaster that had covered the limestone structure.