Aaron Nutt Sr.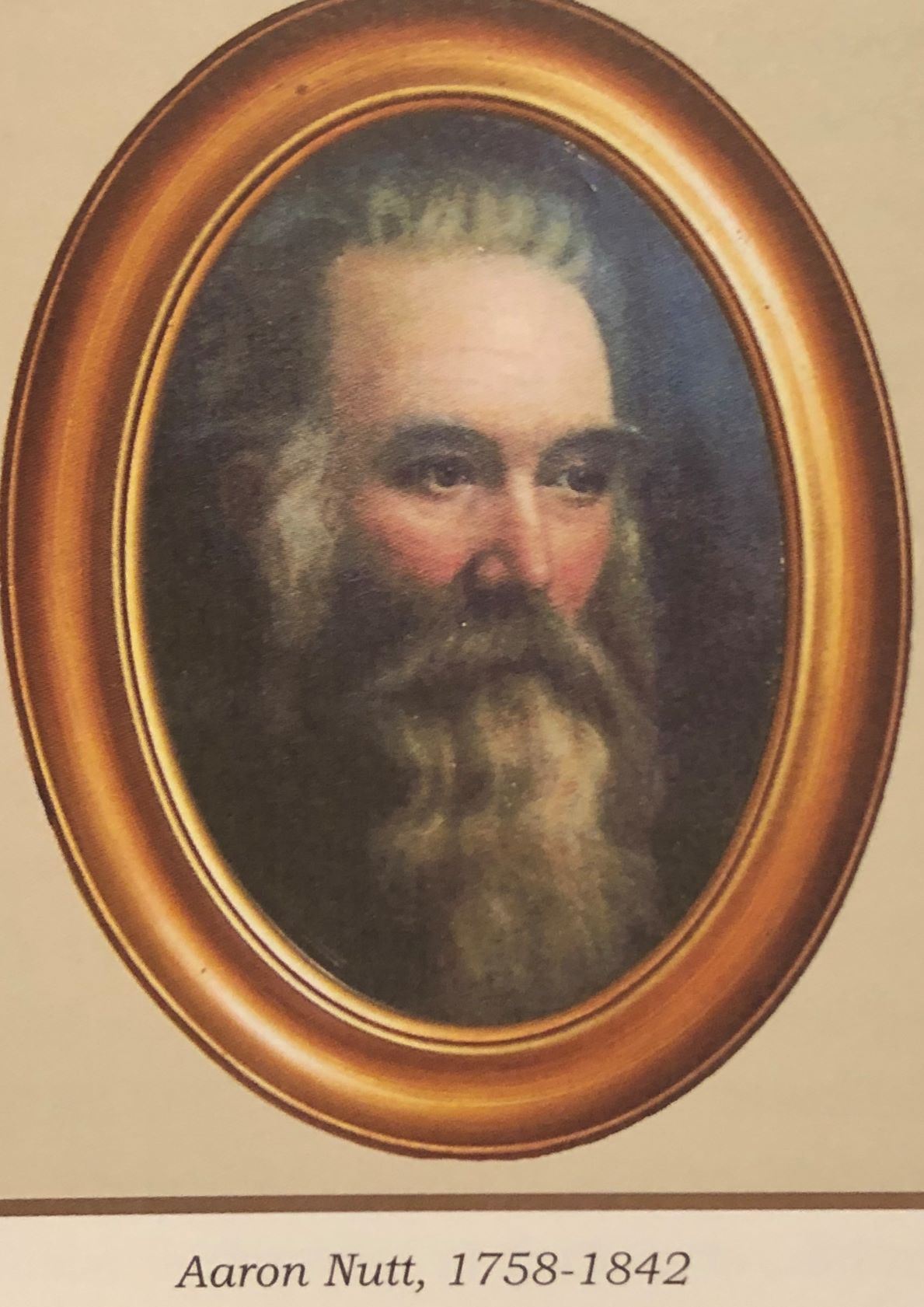 Aaron, born July 17, 1758 in Mount Holly, New Jersey, was one of six children born to Levi and Ann Ivens Nutt.  The Nutts were devout Quakers.  Aaron's father died a few months before he turned five years old.  When he was fourteen years old, his mother bound him for seven years to a local tailor, John Lippencott, who agreed to house and board Aaron and to provide clothing and a small amount of money to be paid at the end of the indenture period.  Aaron's responsibility was to perform the duties that were assigned to him.  Aaron became a competent tailor.
In 1777, John Lippencott was drafted by the New Jersey militia to fight in the Revolutionary War.  Aaron agreed to serve with the militia in Lippencott's place, a common practice.  In recognition of his Quaker religious beliefs, he was assigned non-combatant duties as a riding spy and occasionally as a teamster.  There is no record that Aaron fought in any battles, however because of his participation in the war he was never accepted as a member of the Society of Friends.
On May 4, 1779, Aaron married Mary Archer.  In the next seventeen years, the couple had nine children.  On September 22, 1817, Mary died at age 61 years.  On January 11, 1818, Aaron married Mrs. Martha Pedrick Craig from Warren County.  From this marriage two sons were born.  Aaron was 65 years old when his last child was born.  As each child married, Aaron gave them portions of his land for small farms.
In 1788, Aaron and his two brothers-in-law Benjamin Archer and Benjamin Robbins, moved to Kentucky.  Not satisfied, they made arrangements to move into Ohio and were engaged as surveyors.  After they surveyed the land and made their own selection of land, they returned to their homes in Kentucky.  Aaron chose 320 acres along North Main Street, extending from East Franklin Street to the Alex-Bell Road with an eastern boundary just beyond the present Cemetery Drive.  For ten days, Aaron and his family drove their wagon through the dense wilderness between Cincinnati and their new home.  They arrived at their new farm site on April 1, 1799.  Benjamin Robbins, already settled, offered to shelter Aaron's family and to store their possessions until a cabin could be built.  But Aaron said, "I am not going to unpack until I enter my own cabin."  With the help of some men living near Franklin, Ohio, he built his new home in one day.
Aaron earned his living using many skills. Besides farming and tailoring, he operated a tan yard and a tavern called "The Sign of the Buck's Horns."  He also did construction work, laid the first sidewalk, and became a stockholder in the Farmers and Mechanics Manufacturing Company of Centerville.  In neighboring counties, he became well known as "Uncle Aaron" the auctioneer.  
A community-minded gentleman, Aaron held elective offices in Washington Township early in the 1800s.  He was elected several times to the position of Supervisor of Roads and Overseer of the Poor.
An industrious and hard working man, Aaron was a healthy individual with a hardy constitution.  He was never ill until the last days of his life.  The painful disease that ended his life was probably a fatal attack of temporal arteritis, or inflammation of the arteries.
Neighbors knew Aaron to be cheerful, cordial, extremely kind, fair, interested in the welfare of others.  At his death, his son wrote: "He was a man of eminently correct habits of life, possessing a superior constitution, temperate, industrious and of a cheerful disposition even marked to the end.  When warned of approaching death, he seemed ready and willing to meet the change."
AARON NUTT'S CHILDREN with first wife, Mary Archer Nutt (1756- 1817; m. 1779):
1. 

 Levi, born 1780 in New Jersey
*married Sarah Moon 1802 in Centerville, OH  
#died 1835 in Centerville
2.

  Sarah, born 1781 in New Jersey
*married John Beck in Centerville, OH 
 #died 1859
3.   Mary, born 1783 in New Jersey
 #died of smallpox in 1794 in Kentucky
4.   Aaron Jr., born 1785 in New Jersey
 *married Jane Irvin in 1806 in Centerville, OH 
 #died 1842 in Montgomery Co.
      5.   Joseph, born Nov. 1787 in Pennsylvania 


	

#died of smallpox in 1794 in Kentucky
      6.   Abigail, born 1790 in Kentucky


	

*married John Benham in 1805 in Centerville


	

#died 1868 in Centerville
7.   Ann, born 1792 in Kentucky
 #died of smallpox in 1794 in Kentucky
 8.  Bathsheba, born 1795 in Kentucky
 *married Samuel Harlan in 1814; lived in Greene County, OH until 1830 when moved to Indiana
 #died unknown
9.  Moriah, born 1897 in Kentucky
*married Richard Benham in 1813
#died 1849 in Miami County, OH
 

with second wife, Martha Pedrick Craig Nutt (1780 - 1856; m. 1818)

:
     10. Joseph, born 1818 in Centerville, OH


	

*married Elizabeth Weaver in 1856


	

#died 1903 in Washington Township/Centerville

11. John, born 1823 in Centerville, OH
*married Anne Evans 1851
 #died 1901 in California; burried in Glencoe, Cook County, Illinois